Exhibit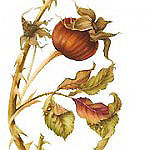 DOCUMENTING BRIEF LIVES:
botanical portraits in watercolor
Over 20 original watercolor paintings by milly acharya
February 3 to March 31, 2017
Community School of Music and Art, 330 State St, Ithaca NY
607-272-1474 — csma-ithaca.org


Master Class
Instructor: milly acharya
This advanced-level, two-day workshop is for practitioners ready to immerse themselves in the minutiae of botanical morphology and eager to explore alternative approaches and techniques beyond their current skills.
A variety of botanical specimens will be provided for a series of exercises aimed at an analytically accurate portrayal with a maximum of visual information. There will be ample time for painting with individual guidance. Before each exercise we will briefly critique and discuss the previous work and conclude each day with a review of the new insights and challenges that participants faced.
Prerequisite: Intermediate botanical illustration. A materials list is available upon registration.
Date: Saturday & Sunday, 18 & 19 March, 2017, 10:00 am to 4:00 pm.
Format: Demonstration, exercises, individual guidance, critique & review
Venue: Art Studio 10, Community School of Music & Arts, 330 State Street, Ithaca NY 14850
Registration: csma-ithaca.org (deadline February 24)
Fee: $227  ($170 for members)